A while back, Ruptured Silence Records sent me a promo kit for the latest album from the Chemnitz, Germany based death metal band Philosopher. I am always eager to hear new music, especially when it comes from a band which cites H. P. Lovecraft as a heavy influence.
The promo kit was very professional. It included an audio CD of the album, promotional photos and flyers, and a data CD containing photos, logos, press releases, a technical rider, lyrics, a music video for 'Dreamside' and more. While this is not really important to those who go out and buy the album, it does show that they certainly have their act together so to speak.
The first track, 'Seven Hundred Steps of Slumber', starts with the soft sound of a violin accompanied by drums, atmospheric sounds and chants which perfectly set the tone for the rest of the album. While a lot of death metal bands try to use unique introductions to their albums, Philosopher pulls it off nicely.
The soothing sounds of the first track are then completely shattered by the monstrous guitar riffs and fast drums of track two, 'Awakening Senses'. Here we start to see the true talents of the band. The lead singer has a perfect sound for death metal, and the other members are indeed well suited to their respective instruments.
Throughout the album, a good deal of variation is heard not only between each song, but in the songs themselves. This is one of the reasons I like this band. Although I do like most death metal, some of it can be quite repetitive and hard to differentiate. Philosopher definitly stands out in my opinion.
Between the heavier songs, there are also a few more lighter tracks. 'Elysia' continues along the same lines as the intro with its soft piano solo, carrying the listener into the next song. There is also '47°9'S 126°43'W', which fans of Lovecraft will undoubtedly recognize as the coordinates of the center of R'lyeh, the sunken city in the Pacific where the Great Old One Cthulhu lies waiting until the stars are right and he can be free once again.
The album ends with 'I am Providence', a beautifully written piano piece which could easily be playing during the ending credits of any good horror movie.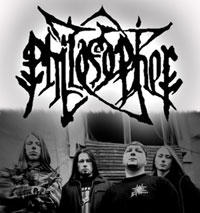 As a side note, the elder sign in their logo is actually the version created by Lovecraft's friend and Arkham House founder August Derleth, having drawn his before seeing Lovecraft's own version in his letters, which was branch shaped. But this is besides the point.
I would certainly recommend this album to fans of death metal, specifically those who like a bit of deviation from the traditional. And if you happen to be a fan of Lovecraft as well, all the better!
Track Listing:
01 Seven Hundred Steps of Slumber
02 Awakening Senses
03 Beyond Darkness
04 Elysia
05 What Dwells Beyond
06 Wounds
07 Nephren Kah
08 47°9'S 126°43'W
09 Dreamside
10 World In Rapture
11 I Am Providence
Band Lineup:
Mike Seifert – Vocals
Snakes – Guitar, Synth
Christoph Weilbach – Drums & Percussion, Violine, Piano
Tobias Trepte – Bass, Programming
Band Website: http://www.philosopher-music.de/html/index.html
Record Label: http://www.rupturedsilence.com/
This entry was posted on Saturday, October 22nd, 2005 at 10:27 am and is filed under Reviews. You can follow any responses to this entry through the RSS 2.0 feed. You can leave a response, or trackback from your own site.